Many designers have abandoned the use of Marble because of maintenance problems. TuffSkin has solved this age old challenge. Design with the client's desires for beautiful natural stone and a practical hospitality surface.
LAS VEGAS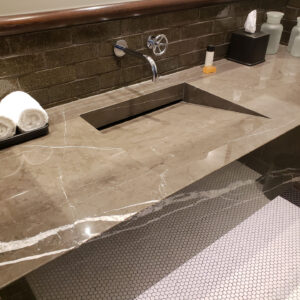 Designers, do you have clients who return to you with complaints about their marble?
Do you love the look of a beautiful white Carrera marble kitchen or a gold Onyx bathroom, but are afraid of the maintenance issues associated with this type of natural stone?
TuffSkin is the solution.
As a designer you know that these stones have been used for centuries but have never been very practical, especially in the hospitality setting. Here at TuffSkin Surface Protection our mission is to bring these exotic stones back into use and make them practical with our stone laminate products.
You can now be confident in choosing a unique natural stone for your clients knowing that TuffSkin can protect it from all etching and staining issues. TuffSkin enhances the beauty of the stone without damaging it and in most cases it will actually cover up any existing imperfections. TuffSkin is liquid impermeable, meaning nothing can soak into the stone, however it is gas permeable, meaning the stone can breathe which will increase its' longevity.
One of our most basic concepts is, if nothing can touch the stone, nothing will destroy the stone, which is why installing our very thin, high tech polyester laminate on top of case goods, kitchen counters, bathroom vanities and other natural stone tops is the best solution for maintenance.
TuffSkin helps you create the space your clients' dream of. From designers to architects, from property operations to hotel guests … everyone loves TuffSkin.