LAS VEGAS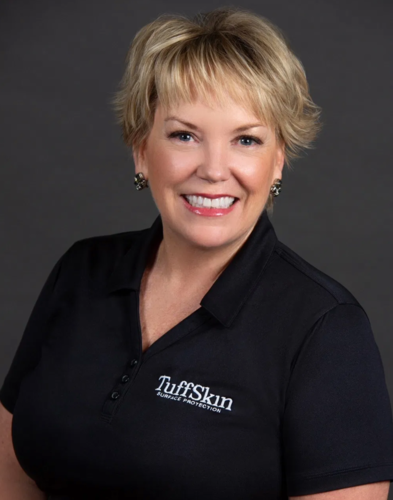 TuffSkin Surface Protection has been selected by MGM Resorts International to participate in its 2019-2020 Supplier Diversity Mentorship Program for diverse suppliers. 
Among six companies selected by MGM for the Supplier Diversity Mentorship Program — which focuses on helping businesses improve and grow — TuffSkin has been a certified diverse supplier for the company for many years.
TuffSkin is a proprietary stone laminate that is similar to a cellphone screen protector, only on a larger scale, which solves the marble etching and staining challenges in the hospitality industry and commercial and residential markets.
As part of the MGM Supplier Diversity Mentorship Program, TuffSkin worked with an assigned advisor from MGM and participated in a variety of workshops on topics — such as Economic Empowerment, Company Culture, and Jumpstarting Growth During Turbulent Times — that provide an in-depth review of the company's operations.
Particularly relevant for 2020 were the workshops Developing Winning Strategies in the New Normal and Prepare Your Business for the "New Norm."
"Some of our workshops were specifically geared around the Covid-19 pandemic, so we had mentors to guide and support us through rough spots," explained TuffSkin Owner and Partner Lelia Friedlander. "MGM stayed in contact with us all to make sure we were OK, and they provided economic resource information to help with strengthening our companies during turbulent times."
Participating companies also created internal teams of employees, called Tiger Teams, which worked on short-term goals to help move the company forward quickly and efficiently.
To become an MGM Resorts supplier, businesses must meet a variety of expectations, including a commitment to quality products and services, competitive pricing, risk management standards, business integrity, and having the technology and capability to conduct business electronically.
To participate in MGM's Supplier Diversity Program, the business must also offer quality, competitive and comprehensive products, have diverse ownership (51 percent owned, operated and controlled), and be verified by a nationally recognized certifying agency or a local city and state government entity.
MORE ABOUT TUFFSKIN SURFACE PROTECTION, LLC
TuffSkin Surface Protection, LLC, is owned and operated by Frank and Lelia Friedlander. The Friedlanders have decades of experience in the protective film business and developed TuffSkin in 2007, refining it into the best marble protection product on the market.
Creating "lasting beauty for natural stone," TuffSkin is manufactured through an exclusive contract with an ISO 9000 manufacturer in the USA, and the Friedlanders have built a worldwide installation network to insure quality installations anywhere.
For more information about TuffSkin, visit tuffskin.com, call 702-778-2272, or email info@tuffskinprotection.com .
[Photo: TuffSkin Owner / Partner, Lelia Friedlander]